Leaving Ubud was sad, but I think we were all secretly excited to experience living in comfort for a few days! As we were pulling into Santika Resort, we all noticed how gorgeous and lush the surroundings were, how sparkling blue the pool was, and how friendly and charming the staff were! I left Brad and Ash to chill by the pool while I went to pick up my Mum, Dad, Oma and Grandad from the airport! When they came back, it was

a nice reunion with lots of hugs and kisses!
As soon as we checked it, we promptly got our rooms changed to be poolside (good call) and then even more promptly went to go get medication for my very gross looking burn! Mum AND Dad made a huge fuss when they saw it…apparently you need to treat wounds very carefully in the tropics to avoid infection. Soon after though, we were on our way to a little Balinese joint for Nasi Goreng (Balinese fried rice) and Mie Goreng(Balinese noodles!) SOOOOO YUMMMY! OH and of course, a COLD Bintang! Apparently, there is nothing more important!
It didn't take long walking around before noticing that Kuta was significantly different than Ubud. Lots more tourist shops that sold Bintang shirts and Bali magnets, compared to the boutiques and art galleries you find in Ubud. It attracted a much larger crowd, and we hadn't even gone into the town center.
One of the highlights was definitely the first night there when we went out to a seafood dinner for sunset on the beach. Not only did we catch the most beautiful sunset, but the food was incredible. You walk up and pick out your fish, lobster, prawns, etc, and it is cooked right then and there and brought out to you on these huge platters! Along
with traditional dancing and decoration, it makes for a perfect evening!
The next day, we called up our driver, Raceng, and went on a tour around the island. First and best stop was to Tegunungan waterfall. First we enjoyed it from a lookout, but it didn't take long before we walked down to play around. Dad, Brad and Ash went in for a swim, but I had to hang back with Mum to let my burn dry out.
Well… i was insanely jealous of not swimming, BUT THEN we saw some locals jump off …and we all agreed we HAD to do it!! Jumping off a tropical waterfall is on my bucket list so screw the burn! Brad made the jump look easy, Ash did it like a champ, but once i climbed to the top and looked down…i was bloody terrified!! Â Especially because the water is
very shallow, not even deep enough to cover your head.  "Just tuck your knees as you hit the water," the local boy told us. I almost didn't do it, but with some encouragement from Ash Bash and a countdown from the local boys, i made the leap!! It was awesome!!! Yay! The whole time Mum was freaking out in the background, but we all made it out safe and sound!
After our daring jump and long climb back up the hill, we drove to check out Batur Volcano…which is still active! There was a big eruption in 1926 which wiped out the town, and another one in 1974 that spewed out black lava. Scrrry! As your driving around the windy streets, you can see smoke coming out of little craters everywhere. Eventually we found ourselves at a lookout…unfortunately it was extremely foggy and a bit hard to see…oh well…the drive itself was nice.
As the afternoon was approaching, we were all ready for a coffee break, so Raceng took us to a spice farm and to try the famous Luwak coffee. It's a regurgitated bean…first eaten by a type of cat, then collected once they release it….extremely expensive and actually…good! The cafe was on the edge of some rice paddy fields, so offered a gorgeous view. There were a few different coffee, teas and even tabacco to try for free.
Unfortunately Ashley's departure came all too quickly, but not after she got to enjoy a massive free buffet and loads of resort pool time! And with Ashley leaving our little love bed, Brad became a permanent resident with another crazy outbreak of fever. Eventually we took him to the doctor and realized his fever in Langkawi may have actually been Dengue Fever!!!!! Ahhh so the next few days truly were spent relaxing and recovering.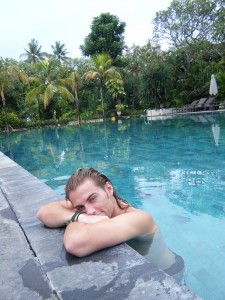 We did manage to squeeze in another day of sightseeing and visit the beautiful Uluwatu Temple. It's situated on the edge of the cliffs over the Pacific. Free to walk around and visit, but beware of the monkeys… we saw someone get attacked AGAIN!!
Then it was off to the famous Rock Bar, which is located literally on the cliff at this crazy beautiful MASSIVE resort called Ayana. You don't need to ever leave if you're a guest, because they have pools, restaurants, shopping, bars, spas, etc. To get to the bar you need to hop in an incline. Â Its multi-levels and open-air with couches, a pool, and the PERFECT spot for sunset. We actually went two nights because we loved it so much! Definitely worth the sort-of long trip out there!
Another must-do for outdoor lovers in Bali is the Whitewater Rafting!! You drive to the top of the river somewhere in ubud, entrust all your stuff over to your driver, enjoy some tea, and then hop on the raft with your guide! The coolest part is when everyone has to lay down as low and flat as they can when the guide yells because you're coming up on an extremely low bamboo bridge! In between admiring all the beautiful rice paddies around us, there are waterfalls you stop at, and even mini waterfalls you go down! At the end of it all, you enjoy a Balinese lunch overlooking the paddies, and your driver arrives with all your stuff so you can have a fresh shower! It's great!

After loads more lovely dinners, street-side shopping and pool hours, we all left Bali a bit more relaxed and a lot chubbier

It was so nice spending time with my bestie, my boyfriend, and of course my awesome family! Thanks Mum and Dad for the awesome resort stay…it was just what we needed after 9 months of beach sleeping, crappy guesthouses and couchsurfing! The first part of our trip was wrapping up as we prepared to spend some time working in Perth!