Ahhh, the land of cheese, chocolate, yodeling and banks.  Switzerland, the ever neutral, vastly beautiful country with mountains that stretch through the clouds and lakes blue as the Caribbean, Switzerland not only provides the world with top quality consumer goods, but is also the birthplace of Albert Einstein and the World Wide Web.
The ride in from Salzburg was comfortable and picturesque, dipping in, out and around the Alps. Our 10pm arrival at the Zurich Train Station put us smack in the middle of peak time for those meeting up for the night. With the momentous Züri Fäscht festival and the World Cup quarterfinal game (Spain vs. Paraguay) the place was packed! We did a quick loop of the impressive Zurich HB, getting passed in all directions by the crowds of people. The vendors from the festival had spilled into the train station and there was even live music! After our brief tour we went to meet our CouchSurfing host Jose at the big clock, the major meeting point of the station, and judging from the size of the crowd, maybe the entire city.
We had to wait about 20 minutes until the end of the game because as it turns out, Jose was a native of a small town in Northern Spain, and a loyal fan. Jose came up and introduced himself. (He was crazy and fun and full of energy…we felt like friends immediately!) He was rocking his Spain jersey and broke the ice by joking about how it was a good thing his team had won because he probably wouldn't have showed up if they didn't. He bought us each a beer to toast the victory then we hopped on the tram to drop our bags at his place.
It was a quick 10 minutes ride to his place, to an area called Albisrieden.  He had a nice, modern looking flat, decorated with pictures of his trip to Galapagos Island. He answered our barrage of questions about the islands as we rode back into the city to join the party for Züri Fäscht.
The streets were PACKED full of people and vendors. We went straight to a stage that was playing a mixture of pop hip hop and techno and pretty much danced all night! Brad and I couldn't help but smell the pungent smell of cheese around us and were dying to try the famous "Raclette". Jose insisted on buying us some, and we got the melted cheese over bread – itwas AMAZING and a great end to the night!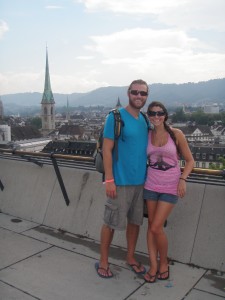 The next day we got a chance to see the festivities in the daytime.  It was a much different atmosphere, with tons of little ones and all sorts of people running around.  First Jose took us to the top of the University to get a nice view of the city before we started exploring through the mass of vendors at the festival! There was CHEESE everywhere, and tons of Asian food, and then the occasional traditional Swiss band. When we found our way to the river, we saw a variety of water sports from trick skiers to the air chair to the high dive. Then suddenly we looked up and saw helicopters looping around in the air doing tricks, and skydivers floating around! It was full on entertainment!  Eventually we gave in and got the more traditional version of "Raclette" melted cheese with a couple potatoes, pickles and baby sweet onions! YUM again!
After walking around for a few hours, it was time to meet up with Jose's girlfriend Sonja who is super sweet and was so accommodating to us the whole time.. and also his family. We all went to the Hispanic part of the festival, Caliente and passed through a beautiful park along the lake on the way! Later that night we sat down for some more music – being pretty exhausted by the point, and relaxed while we enjoyed the beats. Sonja and Jose had to work in the morning, but for Brad and myself, it was the 4th of July!!
We had ourselves a bottle of American Jim Bean Whiskey hehe and were going to celebrate!! Also we were hoping to catch some fireworks! We were lucky. They weren't too extravagant, but it was still a cool moment for us! We wandered around and found ourselves in the dark little area of the park that was blaring with music and had crazy people dancing everywhere! We made friends with a guy named Richard and hung out admiring the glow stick talent! Eventually we decided to make the long walk home because we were enjoying our time together and walked past a huge bakery making fresh bread through the window! It was the MOST amazing smell – I could never even begin to describe it!!
The next day we were off to our new hosts, Mahima and Kai, who lived just a little outside of the city center.  When we stepped into their place, our first reaction was how beautiful and amazing is this place!! There was eccentric art work all over the walls (which turned out to be Mahima's) , a couple of Indian guru statues meditating among the beautiful furniture, and a balcony with an incredible view.  We were to stay in the meditation room, which had a huge fluffy white rug, a white couch, and some cushions! COOL!
We chatted with Mahima for a bit before she took us to a barbeque her friends were hosting! We immediately felt welcomed by everyone we met that night. We helped with the food and drinks. Mahima asked us if we would be in some photos for a brochure advertising a weekend retreat of meditation she was leading. Of course we accepted and we even got to participate in a session in the yard of our barbeque hosts. After that we ate a delicious combination of veggies and meat (that was cooked in this really cool wood stove) talking away well into the night.
The next day we went for a game of tennis at some courts down the road from their apartment. We were excited since we heard they were clay courts, which neither of us had ever played on before. The place was set on the side of a huge hill that had a gondola running to the top. Surrounding the courts was our fans, a family of goats, with cow bells attached to them that would have been distracting had it not been so hilarious. Chelsea kicked my butt as always but it was a close match.
The rest of the day we hung out, chatted up with Mahima and got our social media fix. That night we were suppose to cook dinner. Not wanting to spend any money we planned a meal around what they had in the fridge and pantry. This turned out better than expected. They had a full chicken, potatoes, plenty of garlic and veggies. We stuffed the chicken with lemon peels and bay leaves and rubbed it down with a garlic sauce. We roasted the baby potatoes and Chelsea whipped up her amazing broccoli salad! The meal was a complete success and our hosts were impressed and grateful. Our belly's comfortably full we gathered around the television for some world cup action, Netherlands vs. Uruguay.
The next day we slept in some. Instead of playing tennis again, Mahima suggested some yoga. She led us in a brief session which was semi-strenuous and stimulating. After that we went right into some meditation. Chels and I were both excited to partake since we had read about, heard about and been sleeping in the meditation room. Neither of us had participated in a proper meditation before so we were both eager but kept cool. I was expecting some light music, candles and incense burning but we sat in silence with no external distractions allowing us to focus inward.  She took us through some relaxation then breathing exercises.  We would breathe in naturally then exhale with purpose intentionally making a noise.  When she rang the bell we became quiet, embracing the silence. Before we knew it we were opening our eyes feeling completely peaceful.  Afterwards our minds were clear and we both felt at ease but energized.  I had no idea what to expect when we started but the experience was definitely worth the hour it took (although felt like 10 minutes) and if possible I'll do it again.
We ate breakfast and headed off for some swimming in the lake. Mahima took us to this nice grassy park on the water and we did some snorkeling.  After soaking up enough sun we unanimously decided it was time for ice cream. Sorry, I mean Gelato. We hit up the Italian part of Zurich for our tasty treats and on the way back we listened to Mahima's album, which had this hip-pop, jazzy soul feel, and pretty good considering she produced it. After living in India and having some life-changing experiences, she decided she wanted to live her life fulfilling her dreams and making her work what she enjoys in life. So with an album, artwork, meditation retreats, she's got a lot of cool things going on! Her web site is www.mahimasworld.com for anyone that is interested!
We had made arrangements to watch the Spain vs. Germany game with Jose and Sonja so that's were Mahima dropped us off. We were sad to say goodbye to such a cool couple but we figured our paths would cross again. We made a quick stop at the grocery store then walked the rest of the way to Sonja and Jose's place devouring a rotisserie chicken along the way.. So proper I know! We got there, wasted no time, got dressed as best we could to support Spain and Jose and took off to meet up with his friends.
Decorated with a Spanish flag, I was feeling ready to cheer on Espana!  And so was the entire crowd at the bar.  Not one German fan, which I think made for a better environment.  It was such a blast watching them win with someone who was from that area and we partied into the night. On the walk back we made a mandatory stop at that bakery mesmerized by the wonderful smell (AGAIN). In the basement were the guys whipping up the next day's bread. For some reason the owner of the bakery was there, he approved of our attire and decided to give us a loaf of the most incredible looking bread. We took it back and attacked it, spreading the Swiss version of Nutella on it. The food kept coming out of the fridge and soon the entire coffee table was full of snacks. We all enjoyed a night cap of some Bailey's and passed out.
As usual, our visit to Zurich was highlighted by the people we met.  We could not have handpicked two better (and different) hosts. It's a perfect city with its beautiful surroundings and we would definitely go back there someday!